The Philly Blues Kings is straight-ahead, low-down, hard-driving, hip-shaking, and super-hot electric blues...

Vocalist Gwen Jackson has a 6-octave voice ranging from the lows of Jazmine Sullivan, to the highs of the late Minnie Riperton. Ms. Jackson has toured the world on cruise lines with Paramount Productions, Cirque du Soliel's "Delirium", and performed as a lead singer on Broadway in "Riverdance". She is one of the most requested voices to record with some of the greatest artists in the music industry.
Her incredible career includes touring and backing such artists as the Rolling Stones, Harry Belafonte, Sheryl Crow, Toots & the Maytals, Alisha Keyes, the Dave Matthews Band and Diana Ross. She has appeared on film, TV and on the theatrical stage.
Ms. Jackson's philanthropy extends to G-L.A.W. Foundation where she is Co-Founder.
In addition to fronting the Philly Blues Kings, Ms. Jackson will be playing Whitney Houston in an upcoming touring stage production entitled, "So Amazing."
Harp player Carol Moog is known to be a "huge sound in a small package." Moog played harmonica for many years before launching No Alibi Blues Band. With the fabulous late vocalist Zan Gardner, the band quickly developed a loyal following at Philadelphia's top music venues, such as Warmdaddy's, Tin Angel and World Cafe Live.
Moog continued to perform with what became the original Zan Gardner Blues Band. The high energy blues and funk band appeared with such legends as John Lee Hooker, Koko Taylor, Junior Wells, Buddy Guy, Jimmy Rogers, Leon Russell/Edgar Winter, John Mayall and Roy Buchanan.
In her exceptional acoustic duos, partnering with Garry Codgell, Randy Lippincott, "Chicago" Carl Snyder (recent winner of a Lifetime Achievement award by the Lehigh Valley Blues Foundation) and George Urgo. Moog has appeared with such notables as Saffire, Ronnie Earl, Guy Davis, Kelly Joe Phelps, and John Hammond. She also performs with Tattar, Tucker, Moog and Jackson. Carol is a published author and clinical Psychologist as well.
Moog's musical influences are varied and include Sonny Terry, Little Walter, Sonny Boy Williamson, Paul Butterfield, Hank Crawford, Fats Domino, Mose Allison, Muddy Waters, Dinah Washington and James Cotton.
Over the years, Moog has played Riverblues, Mellon Jazz Festival, Tremblant International Blues Festival, corporate events such as QVC's Pioneer Studios opening, the Philly Gold Awards, and FringeArts.
Carol recently received the 14th Annual Versatility Entertainment and Image Award, sponsored by Healthy Music Matters/Developing Excellence.  She is the first female harmonica player to receive this honor.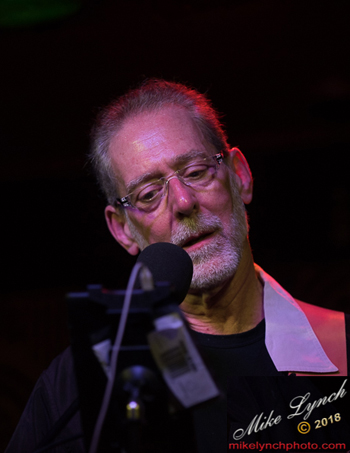 Guitarist and vocalist David "Bluesman" Reiter is a consumate multi-instrumentalist and has been backing national acts for many years, including Sydney Ellis, Frankie Lee, Sista Monica Parker, Chris Cain, Larry Garner, Kenny Neal, and a very young Shemekia Copeland (at the original Warmdaddy's). He also backed many local blues and jazz greats including Jeannie Brooks, Zan Gardner, Ron Kraemer, Greg Underwood, Frankie Alston, and our own Georgie Bonds.
Dave was a regular sideman at east coast festivals for several years, including the North Atlantic Blues Festival in Rockland Maine, the Pocono BF, the Hudson River Park BF in Manhattan, Blues & Microbrews in Wilmington, and the annual BF in Monkton MD.
Since completing a Masters of Music in Percussion Performance, drummer Bill Marconi has pursued a wide range of teaching and performing experiences including: The Jimmy Bruno Trio, The L.A.Jazz Workshop Big Band, Trio Nova, The Magic Casino Orchestra (Zurich) and various orchestras and opera companies. Bill has also performed with The Bamboo Jazz Quartet, fusing jazz rhythms and Indian ragas, The Mighty Little Big Band & City Line Swing. He recently has performed with Jazz Volcano.
Bill has studied drumset with Jeff Hamilton, Greg Bissonette and Armand Santarelli among others. He has studied with world percussionists Tony Vacca, Randy Crafton and Ustad Mohammed Lutfi.
Bill also has extensive classical experience having been Principle Percussionist and Timpanist for 7 years with The Philharmonic of Southern New Jersey. He has also done stints with The Haddonfield Symphony, Bridgeton Symphony And the Whitewater Opera Company. He can be heard on the 2002 Trio Nova release "Parallel Lines", and Adam Berenson's 2002 release, " Stand In The Corner And Breathe." and the Bamboo Jazz Quartet cd,"Breath" Bill can also be heard on 2 duo recordings with Adam Berenson , "A Way Out"(2009) & A Codex of Silent Voices"(2010). A trio album wad released in 2010, "Jnana", featuring Adam Berenson on Piano, Scott Burnam on bass and Bill on Percussion.
Bassist Jamey Reilly was trained on keyboards and guitar at a young age, and has held down the low end since 1965 when he joined the pop group, "The Abstract Design." He has been an avowed blues lover since 1970 when he did a short stint with legendary bluesman John Lee Hooker, and tried to coax Son House out of retirement. It was a reunion performance at Boston's Fenway Theatre that Jamey pulled together, with Paul Butterfield, Mike Bloomfield, Mark Naftalin, John Kahn and Billy Mundi that cemented his life long addiction to the blues.
Jamey has done gigging around the east coast and has backed some well known national blues names. His playing can be found on a number of CDs by various artists. He spent several decades in numerous roles in the professional audio engineering and live music industry, and has a degree in Physical Therapy as well.
After spending many years on the road and living in various parts of the country, he finally set down roots in Philadelphia and joined the vibrant Philly music scene. Jamey has re-opened the popular Jamey's House of Music, Livehouse and Cafe in Lansdowne PA where PBK is the house band, hosting the First Sunday Blues Brunch and Blues Open Mic.